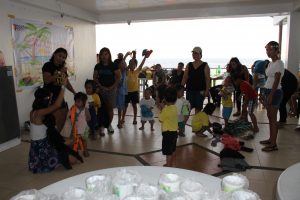 The Reception and Study Center for Children recently celebrated its 27th founding anniversary and Family Day for its residents and staff.
The Reception and Study Center for Children (RSCC)is another center of DSWD that provides protection, treatment and rehabilitation and eventual alternative placement to children below 0 to below 7 years of age who are abandoned, neglected, abused, and exploited.
For 27 years of operation, the Reception and Study Center for Children (RSCC) has been serving and helping children in need of special protection by finding a home through foster care and permanent placement through adoption.  While at RSCC, the developmental aspects of every child were appropriately addressed through the interventions made by the multi-disciplinary team.
The celebration started off with a thanksgiving Mass held at RSCC Conference Room.  Center residents and staff also  had their  outdoor activity at Del Carmen Beach Resort in Lagonglong, Misamis Oriental.  It provided an avenue for RSCC residents and staff to relax and unwind while enjoying the beauty of nature.  There was a showcase of talents through dance and song presentations.  Parlor games were also facilitated as well as the recognition and awarding of best center staff.
Other highlights of the Anniversary celebration included a consultation dialogue and case conference with counterparts from different Municipal /City Social Welfare and Development Officers, concerning cases of children referred to the Reception and Study Center for Children.  Issues and concerns raised were thoroughly discussed and provided with technical assistance.
Part of the celebration was also the Baptism of 9 children residents  held in St. Francis Xavier Church, Pueblo de Oro, Cagayan de Oro City.
Written by Faith M. Sabulana/Mitzie Sarballon-Santiago, DSWD