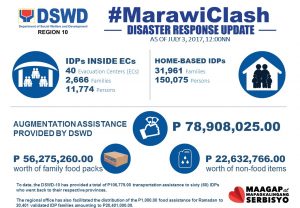 The total number of IDPs served in the Region have reach to 34,627 families or 161,849 persons. There are currently 40 evacuation centers housing 2,666 families or 11,774 persons. The number of home-based families total to 31,961 or 150,075 persons.
For the whole province of Lanao del Norte including Iligan City, the total number of IDP families increased to 29,697 or 141,829 persons. The number of families inside evacuation centers including Iligan City is 2,662or 11,758 persons.
For Iligan City alone, the number of IDP families served remained at 15,490. There are 787 families sheltered in evacuation centers or 3,808 persons, while the number of home-based families served is now 14,703 or 71,777 persons.
Five Evacuation Centers are still existing and operational in Iligan City namely: Buru-un School of Fisheries, Buru-un Gym, Tibanga Gym, Bayanihan Gym, and Ma. Cristina Gym.
In Misamis Oriental, the number of IDP families served remain at 4,412; four (4) families are staying in the lone evacuation Center situated in Barangay Indahag, Cagayan de Oro City.
In Bukidnon, the number of IDP families served remain at 423 families who are all home-based or staying with their relatives in the municipalities of Kalilangan, Lantapan, Pangantucan, San Fernando and the cities of Malaybalay and Valencia.
In Misamis Occidental, the number of IDP families served remain at 95 families or 475 persons who are all home-based temporarily residing in four barangays of Ozamiz City namely: Brgy. Maningcol, Brgy. Tinago, Brgy. San Antonio, and Brgy. Gango.
Total cost of assistance extended to IDPs amounts to P82,205,135.00 of which P78,908,025.00 is extended by DSWD. Breakdown of Cost assistance is P56,275,260.00 for Family Food Packs and P22,632,766.00 for non-food assistance.
The Province of Lanao del Norte including the lone district of Iligan City has provided P1,852,443.00 for IDPs while Non-Government Organizations (NGOs) have also provided a total of P1,444,667.00 worth of assistance.
For IDPs in evacuation centers who wish to avail of transportation assistance or the Balik Probinsiya Program, they may ask the Camp Managers for referral letter to be submitted to social workers assigned at the Operations Center, for assessment and assistance.
To date, the DSWD-10 has provided a total of P106,779.00 transportation assistance to sixty (60) IDPs who went back to their respective provinces.
The regional office has also facilitated the distribution of the P1,000.00 food assistance for Ramadan to 20,401 validated IDP families amounting to P20,401,000.00.
DSWD-X has been continuously joining the National Risk Reduction Management Council (NDRRMC) meetings along with the Office of Civil Defense, DSWD-ARMM, DOH and other government or non-government agencies for regular updating, resolution of issues and point of collaboration pertaining to the disaster operation. ###
JAMILA M. TAHA, DSWD-10