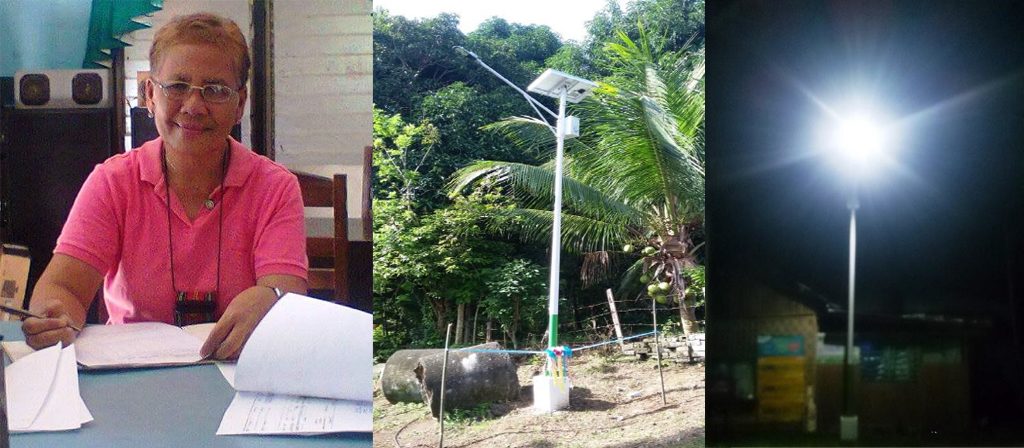 by Michie Lou Cruda, Community Empowerment Facilitator
Being a volunteer is not easy, especially if it is for the progress of a certain community; it needs time, perseverance and heartfelt service. It is rare that we see a person who has the guts to take charge without doubt and hesitation. This is Delia Daung, a 50-year old widow and resident of Barangay Pahindong, Medina, Misamis Oriental.
Delia is a Pantawid Pamilyang Pilipino Program (4Ps) Parent Leader, a barangay records keeper, and the president of Pahindong Women's Association, and a Sustainable Livelihood Program (SLP) association leader in their barangay.
Amidst these responsibilities, it did not stop Delia from volunteering in the Department of Social Welfare and Development (DSWD) Kapit-Bisig laban sa Kahirapan Comprehensive and Integrated Delivery of Social Services (Kalahi-CIDSS) National Community-Driven Development Program (NCDDP). She was chosen as the Barangay Sub-Project Management Committee (BSPMC) Chairperson.
"Nagka-interes ko sa Kalahi-CIDSS tungod kay isa kini ka pamaagi nga makatubag sa ubay-ubay nga problema sa among barangay kung gani among barangay maprioridad nga matagaan ug pondo sa programa (I got interested with Kalahi-CIDSS because it's also an answer to a lot of problems that our barangay is facing, if we will be given fund priority provided by the program) said Delia.
The conduct of the Barangay Participatory Situational Analysis (BPSA) resulted that the people's main problem is lack of road lighting, which endangers residents, especially at night. To address the problem, their proposed project of the Installation of a 40-unit Solar Street Lights system was granted by the DSWD Kalahi-CIDSS through the Municipal Inter-Barangay Forum Participatory Resource Allocation (MIBF-PRA) which prioritized their barangay as a recipient of the grant and the local government unit's counterpart.
Delia, and the rest of the community volunteers of Barangay Pahindong, went through challenges that made them question their individual capacities – some even questioned Delia's leadership skills, this almost made Delia give up the BSPMC chairmanship.
However, Delia managed to continue working and collaborating with her co-volunteers and together, they have resolved their issues to push through the completion of their community sub-project.
The installation of the 40 units solar street lights project was successful through "bayanihan" (communal unity, work, cooperation) of the people, barangay local government and the Municipality of Medina, Misamis Oriental.
Delia concludes with the time tested quote "united we stand, divided we fall" and that these experiences taught the people of Medina – to achieve success it is important that individuals possess the necessary qualities of understanding, patience, and respect.
Community-Driven Development (CDD) is an approach that gives the community control of the development process, resources and decision making authority and regarded as the best assessors of the needs that their communities. The communities also have the responsibility of implementing, managing, and operating the sub-projects they have planned as well as maintenance.
In the Philippines, CDD is implemented through the Kapit-Bisig Laban sa Kahirapan Comprehensive and Integrated Delivery of Social Services – National Community-Driven Development Program (Kalahi-CIDSS NCDDP) under the Department of Social Welfare and Development (DSWD).